Publié le 25 juin 2020 à 18h45
Assa Traoré récompensée pour son « engagement pour le bien-être de la communauté noire mondiale », lors des BET Awards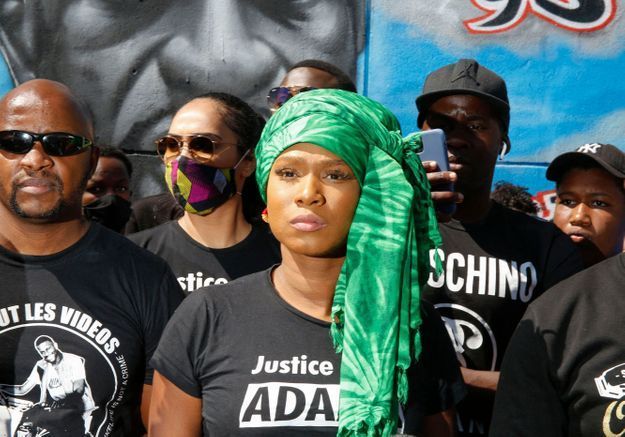 Controversée en France, Assa Traoré est récompensée aux États-Unis. Dimanche 28 juin, elle recevra un prix pour son « engagement pour le bien-être de la communauté noire mondiale lors de la cérémonie des BET Awards. Explications.
Ce dimanche 28 juin, outre-Atlantique, se déroulera la cérémonie des BET Awards. Un événement organisé par la chaîne Black Entertainment Television, visant notamment à distinguer les personnalités noires ou issues des minorités. À cette occasion, la militante française, Assa Traoré, se verra remettre un prix pour son combat contre le racisme et les violences policières. « [Elle] sera récompensée par le BET International Global Good Award 2020 ! Assa Traoré a créé le mouvement "Justice pour Adama" afin de demander justice pour son frère qui a été tué par la police », peut-on lire sur le compte Twitter de l'événement. « Le Global Good Award est la reconnaissance par BET International des personnalités publiques qui utilisent leur plateforme pour la responsabilité sociale et la bonté, tout en démontrant un engagement pour le bien-être de la communauté noire mondiale », explique le magazine « The Hollywood Reporter », mercredi 24 juin. Le média américain souligne également qu'en recevant cette récompense, Assa Traoré succèdera à l'artiste Akon ou encore l'activiste britannique Chakabars.
FRENCH ACTIVIST ASSA TRAORE WILL BE HONORED WITH THE 2020 BET INTERNATIONAL GLOBAL GOOD AWARD! TRAORE CREATED THE "JUSTICE FOR ADAMA" MOVEMENT TO SEEK JUSTICE FOR HER BROTHER WHO WAS KILLED AT THE HANDS OF POLICE. #BETAWARDSPIC.TWITTER.COM/8I5FNHRIXK— #BETAWARDS (@BETAWARDS) JUNE 24, 2020
Suite à cette nomination, la jeune militante s'est exprimée, sur les réseaux sociaux : « Ce prix est une reconnaissance de quatre années de lutte et un encouragement pour l'avenir. Le nom de mon petit frère, Adama Traoré, est devenu celui d'un combat, celui de nos droits. Ce prix le rendra plus fort encore. Merci aux BET pour cet award international, et cette reconnaissance qui donne de l'écho à nos voix ».
UN COMBAT SANS RELÂCHE
Adama Traoré est décédé le 19 juillet 2016, à Beaumont-sur-Oise, suite à son interpellation par des gendarmes. Le 2 juin dernier, alors que le mouvement Black Lives Matter s'intensifiait aux États-Unis après meurtre de George Floyd, le comité « Justice pour Adama » rassemblait plus de 20 000 personnes devant le tribunal de Paris. Puis 15 000 Place de la République, le 13 juin. En passe de devenir une véritable icône du militantisme, la jeune femme ne se considère pourtant pas comme telle. « Je porte juste le nom de mon frère. Son nom ne sera jamais dans l'oubli, il entrera dans l'histoire et on en parlera dans dix ou vingt ans. C'est avec son nom qu'on va changer les choses », confiait-elle récemment  dans un interview au ELLE.fr.

elle.fr
99 Vues au Total, 5 Vues Aujourd'hui
Total Page Visits: 2588 - Today Page Visits: 3